The fourth branch of DesignLibrary Network will open in Lithuania
DesignLibrary Kaunas

The newest Design Research Center for Baltics and NEE countries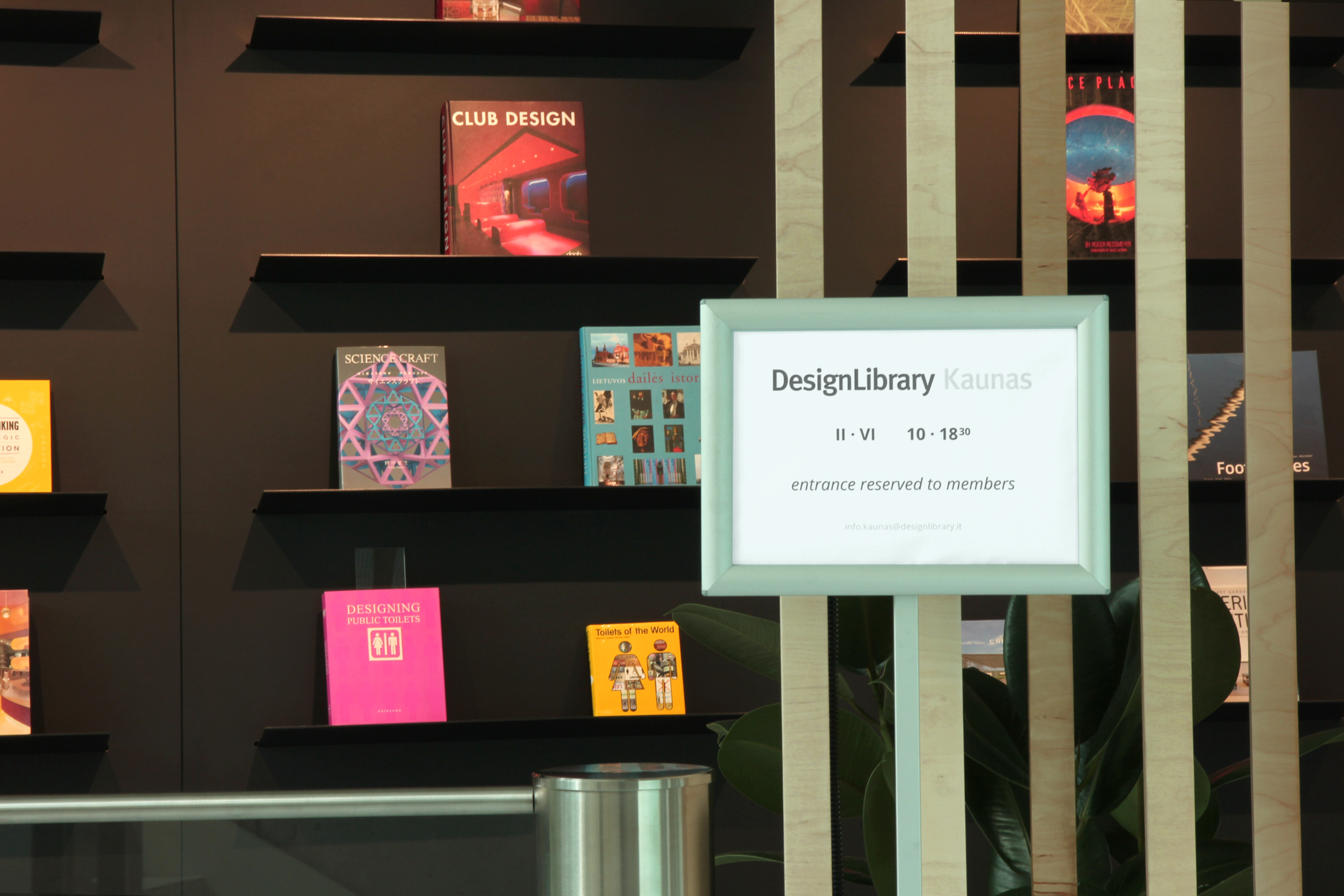 DesignLibrary tinklas
DesignLibrary (liet. dizaino biblioteka) – pirmoji dizainui dedikuota biblioteka - buvo įkurta Milane 2006 m. balandį Milano dizaino savaitės proga bendradarbiaujant su Electrolux ir ADI - Italijos pramoninio dizaino asocijacija (angl. Industrial Design Association).
Suprojektuota James Irvine ir Maddalena Casadei, DesignLibrary archyvą sudaro virš 20.000 leidinių, dedikuotų dizainui, tarp kurių vieni pirmųjų žurnalų numerių, padovanoti leidėjų bei įžymių Italijos ir kitų šalių arcitektūros ir dizaino profesionalų.
Italijoje sukurtas DesignLibrary modelis yra taikomas ir kituose filialuose. Siekiant skatinti dizaino kultūrą yra organizuojami ,,Dizaino ketvirtadieniai" (angl. - DesignThursdays), kurių Milano filiale per devynerius gyvavimo metus buvo surengta daugiau nei 240. Dizaino ketvirtadieniai - tai DesignLibrary renginiai, kurių metu kūrybininkai, mokslininkai ir kiti įdomūs žmonės bei inovatoriai iš viso pasaulio dalinasi pačiomis aktualiausiomis žiniomis.
Siekiant sukurti atvirą dizaino tinklą bei suburti tarptautinę bendruomenę, buvo atidaryti du padaliniai - Šanchajuje (2007m.) ir Stambule (2009m.). 2016 metais duris atvers dar vienas padalinys – DesignLibrary Kaunas.
DesignLibrary Network
DesignLibrary, the first library completely dedicated to design was established in Milan in April 2006 in occasion of the Milan Design Week, in collaboration with Electrolux and patronage of ADI (Industrial Design Association).
Designed by James Irvine and Maddalena Casadei, the DesignLibrary 's archive holds the largest catalogue of design related books in Italy exceeding 20,000 volumes from books to magazines, featuring numerous first editions thanks to the contributions made by editors of the most prominent international and Italian design publications, studios collections and private donors.
The Italian format of DesignLibrary Milano is considered the model as the basis of the other DesignLibrary branches. In order to promote the culture of design, now in its nineth year of operation, weekly events with over 240 conferences previously execudeted called "Design Thursdays"( i Giovedì del Design) are organized. Design Thursdays - the events organized by DesignLibrary where creative, scientific and other interesting personalities and inovators are sharing the most actual information.
With the aim to create a global network and cross-cultural communication other 2 branches were opened in Shanghai (2007) and Istanbul (2009). The fourth branch of this network DesignLibrary Kaunas will be open in 2016 in Lithuania.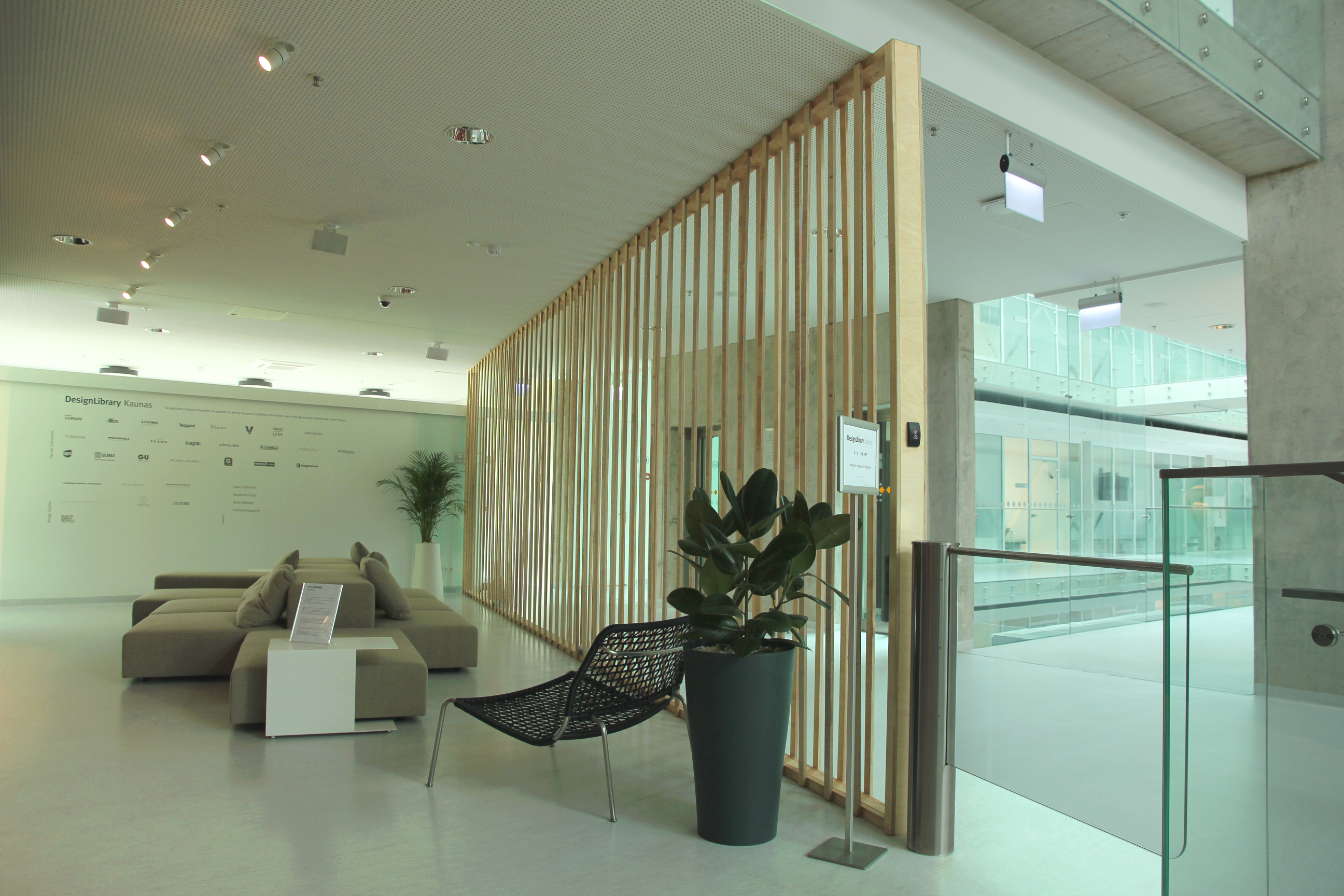 Vieta - Mokslo, studijų ir verslo centre – KTU slėnyje "Santaka", K. Baršausko g. 59, Kaunas, III aukšto hole.
Location - Santaka Valley, KTU Science, Technology and Business Centre, 2nd floor open space, K. Barsausko str. 59, Kaunas, Lithuania.
Projekto tikslas - kelti visuomenės nuovoką apie dizainą, mokslą, meną ir aktualiausias pasaulio tendencijas, populiarinti dizaino kultūrą, skatinti studijų, mokslo/meno ir verslo bendradarbiavimą, Lietuvos etreprenerystės ir kūrybinio sektoriaus plėtrą vietiniame ir tarptautiniame kontekste.
Aim of the project - diffuse & share design culture, raise awareness about design, promote the collaboration between studies, arts/science and business through design. Promote Lithuanian deisgn locally and internationally.
Vizija - inovatyvi dizaino aplinka universiteto bendruomenei, verslo įmonių personalui, dizaineriams, technologams ir jauniems kūrybingiems verslininkams, kviečianti įgauti žinių apie dizainą ir dalintis jomis. Strategiškai patogi platforma, dabartiniame socialiniame-ekonominiame kontekste, kuri generuos apčiuopiamą rezultatą inovacijų srityje bei taps jungiamąja grandimi tarp ES šalių, ypač šiaurinėje ir rytinėje Europos dalyje.
Vision - an innovative design-environment for students, universities, companies, designers and creative entrepreneurs inviting to collect and share design-based knowledge. A strategic platform, in the current social-economic context, that will be a tangible result in innovation field and integration between EU's countries of North-East European area.
DesignLibrary Kaunas – tai:
• dizaino archyvavimo, konsultavimo ir kultūros puoselėjimo centras;
• globalus dizaino tinklas;
• susitikimo vieta tiems, kurie gyvena dizaino pasaulyje arba šalia jo: įmonėms, dizaineriams, studentams, profesionalams ir dizaino mylėtojams.
DesignLibrary Kaunas is:
• a design documentation, consultation and cultural promotion centre;
• a global design network;
• a meeting place for those who gravitate around design world: companies, designers, students, professionals and design lovers.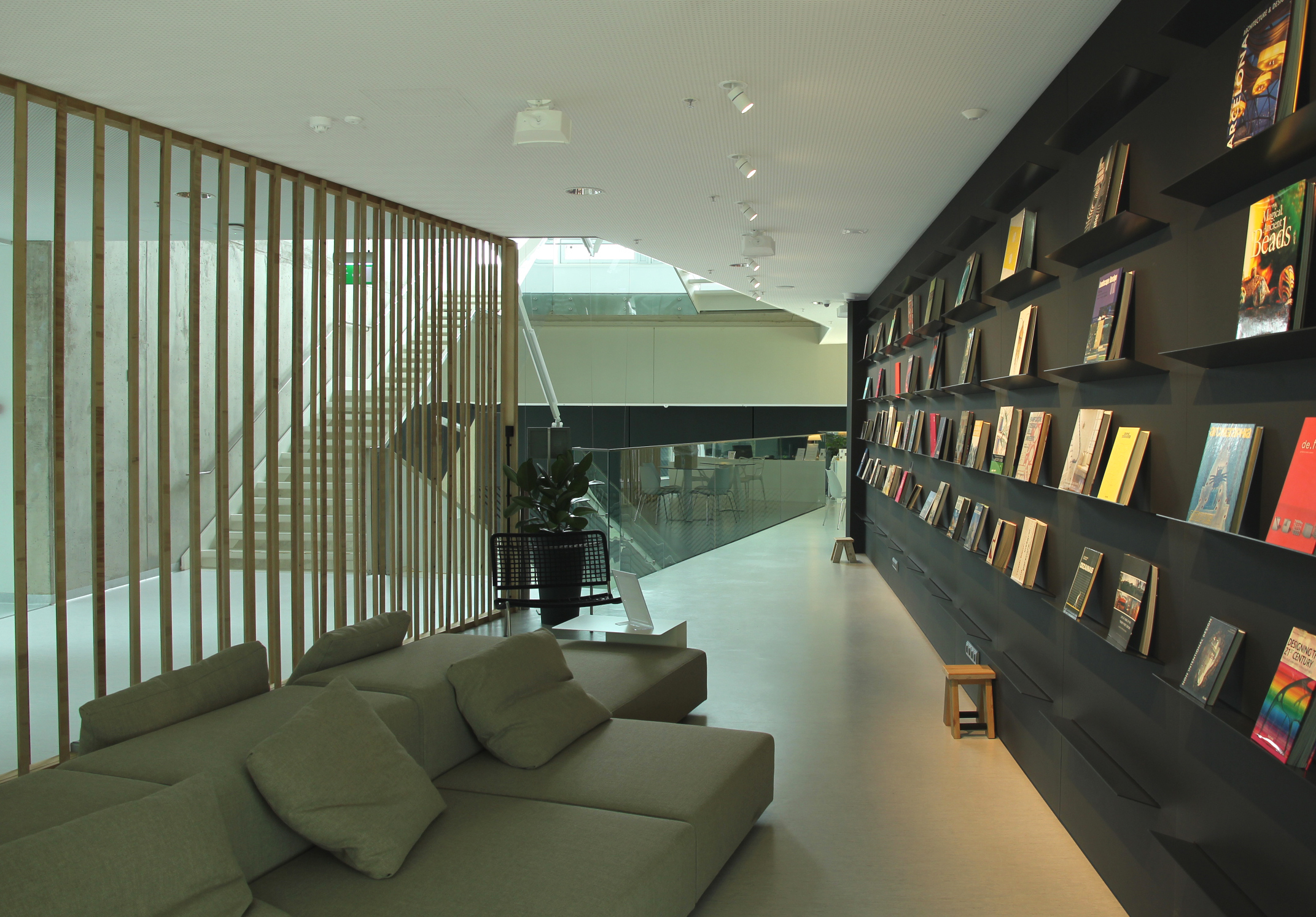 Ikonografinė kolekcija
DesignLibrary Kaunas jūs rasite apie 8000 leidinių kolekciją, kurią sudaro preciziškai parinktos knygos, tarptautiniai žurnalai, istoriniai Italijos dizaino kompanijų produktų katalogai; taip pat atrinkti vietinių leidėjų kūriniai apie dizainą, architektūrą, meną ir kultūrą.
Iconographic collection
DesignLibrary Kaunas will offer around 8,000 volume collection that includes accurate selection of books, international magazines and historical catalogues from renowned companies of Italian design as well as the additional volumes about design, architecture, art and culture gathered from local publishers.
Veiklos
• Biblioteka
• Konferencijos ,,Dizaino ketvirtadieniai", kur vyksta pristatymai ir diskusijos
• Dizaino kursai, Dizaino vasaros mokyklos
• Tinklaveika
• Dizaino tendencijų apžvalgos ir konsultacijos
Activities
• Library
• Design conferences & events
• Design based courses, Design Summer Camps
• Networking
• Design research & consultancy
Aplinka
Pagrindiniai partneriai, padėję įkurti Dizaino biblioteką Milane, yra žinomos Italijos dizaino įmonės kaip Alias, Antoniolupi, Artemide, Biticino, Bysteel, Bose, Cappellini, Danese, Foscarini, Kartell, Knoll, Luceplan, Magis, Pioneer ir Samsung. Kartu su vietinėmis Lietuvos įmonėmis, dirbančiomis dizaino srityje, DesignLibrary Kaunas padalinį įrengti padės kompanijos Reggiani Lighting bei Living Divani. Kuriant DesignLibrary Kaunas interjerą bus išlaikoma ta pati dizaino koncepcija, esanti Milane ir kituose padaliniuose.
Ambient
Italian design companies as Kartell, Luceplan and Reggiani are the general technical partners having sponsored the setup of DesignLibrary in Milan. Italian companies together with local Lithuanian's one will partecipate to set up DesignLibrary Kaunas branch, where the same interior design concept will be replicated.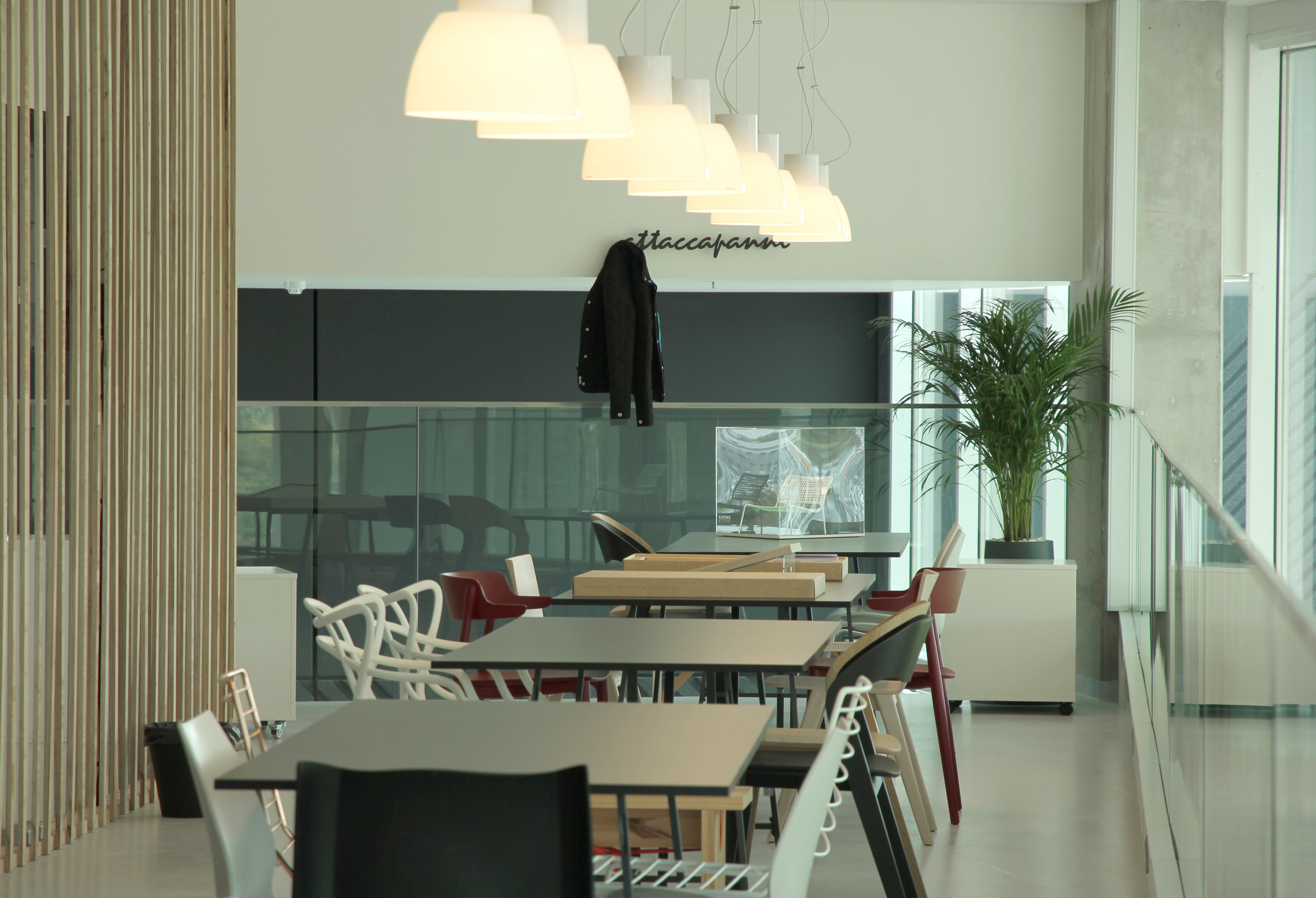 Narystė
Galimybė naudotis ikonografine kolekcija bei lankyti kultūrines veiklas, organizuojamas visuose DesignLibrary padaliniuose bus nemokama visiems DesignLibrary nariams. Sumokėjus metinį registracijos mokestį, nariui bus suteikiama identifikavimo kortelė, kuri leidžia naudotis visomis bibliotekų padalinių (Šanchajuje, Istanbule, Milane, Kaune) siūlomų paslaugomis. Narystės rūšys:
Privati narystė skirta individualiems asmenims.
Korporatyvi narystė skirta įmonėms.
Tinklo nauda privatiems nariams
• naudotis istoriniu ir šių dienų archyvu, turėti prieigą prie DesignLibrary bibliotekų padalinių visame pasaulyje;
• dalyvauti konferencijose, diskusijose, pristatymuose ir kituose renginiuose;
• lankyti dizaino kursus ir dizaino vasaros stovyklas;
• dalintis žiniomis ir patirtimi kartu su kitais privačiais nariais ir verslo atstovais;
• pristatyti save pasauliniu mastu verslumo ir dizaino renginiuose;
• naudotis DesingLibrary kontaktais (daugiau nei 50.000 tarptautinių kontaktų: įmonės, žinomi dizaino, inžinerijos, architektūros specialistai, mokslo įstaigos ir kitos organizacijos);
Tinklo nauda verslo sektoriui
• naudotis DesingLibrary kontaktais (daugiau nei 50.000 tarptautinių kontaktų: įmonės, žinomi dizaino, inžinerijos, architektūros specialistai, mokslo įstaigos ir kitos organizacijos);
• naudotis DesignLibrary patalpomis savo įmonės renginiams ir parodoms;
• užsakyti dizaino analogų ir tendencijų apžvalgą pagal specifinius įmonės poreikius;
• rasti potencialių darbuotojų savo įmonei.
Membership
The access to the iconographic collections and the cultural activities organized in all the branches around the world are free to DesignLibrary's members. After paying an annual registration fee, members receive an identification card that allows them the access to all services offered by the different libraries around the world. There are two types of memberships:
Private membership - dedicated to individuals;
Corporate membership - dedicated to companies.
What do associate private members get from the network?
• use historical archive and location for the research in all DesignLibrary branches around the world;
• attend conferences & events;
• attend design based courses and summer camps;
• share knowledge and experiences between associated members;
• present themselves through the global network during design events;
• obtain worldwide contacts in between companies, institutions, students, architects and design professionals;
What do associated corporate members get from the network?
• use DesignLibrary database over 50.000 international contacts;
• use DesignLibrary location for company's events and exhibitions;
• obtain design research service for the specific needs of the company;
• obtain worldwide contacts in Design field;
• HR recruitment.
Kontaktai / Contacts:
DesignLibrary Kaunas office
info.kaunas@designlibrary.it
+370 6717 3070