i Giovedì del Design n.226
Material ConneXion Italia: fonte aperta

Nuovi modelli di business e interazione sul web: il caso Material ConneXion Italia. Intervengono: Rodrigo Rodriquez · Emilio Genovesi · Anna Pellizzari · Alessandro Mininno

ingresso gratuito per gli associati · free antrance for members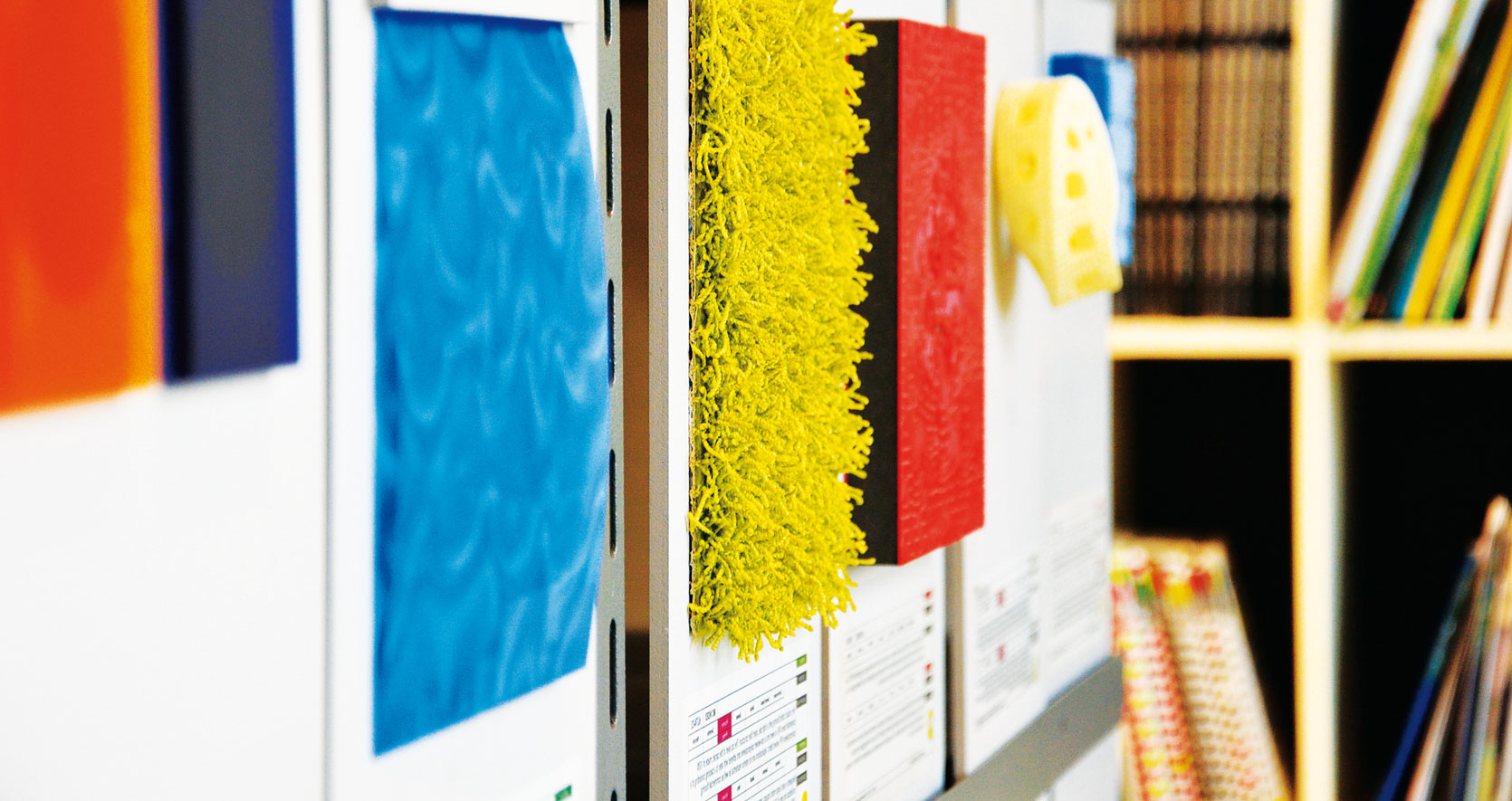 DesignLibrary in collaborazione con Material ConneXion Italia organizza, per i Giovedì del Design, un incontro sul tema della relazione tra web e nuovi modelli di business, di comunicazione e d'interazione con l'utente.
Dopo il saluto di Rodrigo Rodriquez, Presidente di MCI, Alessandro Mininno, co-fondatore di Gummy Industries e consulente di Expo 2015 per i social media, racconterà la rivoluzione avvenuta negli ultimi anni sul web nella gestione delle informazioni specialistiche e qualificate, un tempo in vendita, e oggi spesso disponibili gratuitamente, attraverso esempi significativi e attraverso modelli Freemium. E' il caso di Material ConneXion, la più grande banca dati di materiali innovativi e sostenibili, che introduce sperimentalmente in Italia una modalità aperta di accesso: Emilio Genovesi, CEO, e Anna Pellizzari, Executive Director, presenteranno l'evoluzione dell'azienda e il suo approdo, attraverso un sito web completamente rinnovato, al nuovo modello di navigazione gratuita.
Material ConneXion nasce a New York nel 1997 come fonte d'informazione e documentazione sui materiali e processi produttivi innovativi e come promotore di contatti tra i produttori di materiali e i potenziali utilizzatori. In pochi anni MCX si afferma come il più importante database al mondo, per numero di prodotti contenuti e per sedi nel mondo. Oggi i materiali della Materials Library, la banca dati sia fisica che online, sono circa 7.000 e le sedi sono 7, in 3 continenti.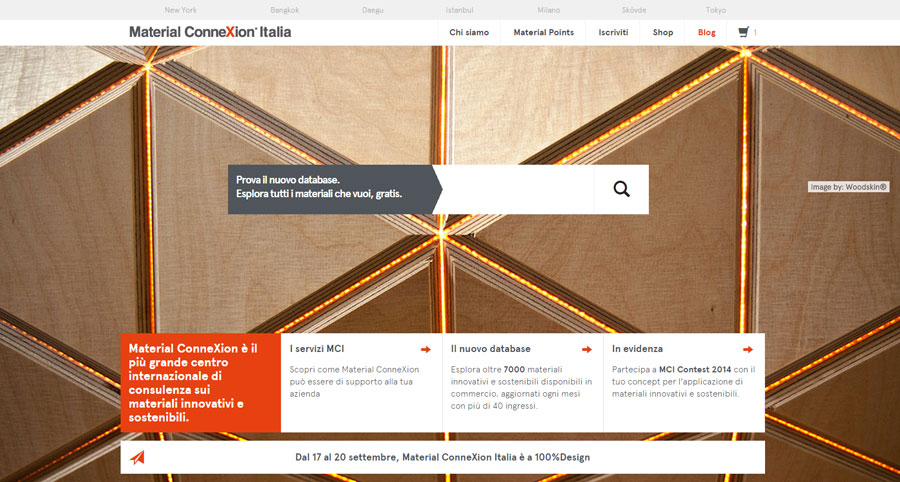 A differenza del modello storico newyorkese, dove la banca dati è fruibile dai soli abbonati, il modello sperimentale italiano oggi consente a chiunque di navigare liberamente all'interno del database, con una visualizzazione parziale d'informazioni, e attraverso un'interfaccia leggera e immediata, di taglio blog. Agli abbonamenti annuali, online e onsite, si aggiunge inoltre la possibilità di acquistare crediti per visualizzare le singole schede dei materiali, complete di tutte le informazioni.
Le nuove modalità di accesso, valide esclusivamente per l'utenza italiana, fanno del database una "fonte aperta" che facilita la connessione tra i produttori di materiali e i potenziali utilizzatori, e dove, in prospettiva, sarà possibile contribuire con proprie news alla sezione Materials Blog.
A coloro che, durante la serata, vorranno associarsi alla Design Library, il primo network internazionale di biblioteche dedicate al design, Material ConneXion Italia riserva 3 crediti per la visualizzazione gratuita di 3 schede complete di materiali nel database di MCX.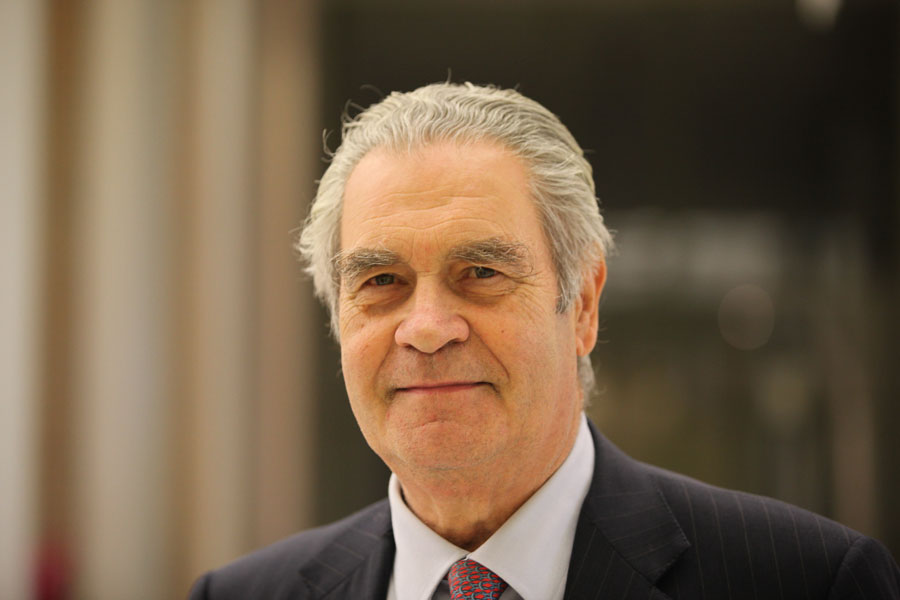 Rodrigo Rodriquez
Già presidente di Cassina S.p.A. e di FederlegnoArredo, oggi Rodriquez è Vice Presidente di Flos S.p.A., Presidente di Forza Projects Ltd, Vice Presidente A.I.P. – Associazione Italiana Politiche Industriali, Membro del Collegio dei Probiviri di Confindustria, Membro del CdA di Fondazione COSMIT, Presidente Onorario e Presidente Commissione Affari Sociali di UEA – Union Européenne de l'Ameublement, Membro del CdA di Fondazione ADI per il Disegno Italiano. Da Novembre 2011 è Presidente di Material ConneXion Italia. Dal 2013 è Presidente del Consorzio SiExpo2015, Sustainability and Innovation for Expo 2015.
President of Cassina S.p.A. and FederlegnoArredo, Rodriquez is now Vice President of Flos SpA, Chairman of Forza Projects Ltd, Vice President A.I.P. - Associazione Italiana Politiche Industriali, Member of the Board of Arbitrators of Confindustria, Member of the Board of Trustees COSMIT, Honorary President and Chairman of the Social Affairs Committee of UEA - Union Européenne de l'Ameublement, Member of the Board of Trustees for the ADI Design Italian. He has been President of Material ConneXion Italia since November 2011. Since 2013, he has been Chairman of the Consortium SiExpo2015, Sustainability and Innovation for Expo 2015.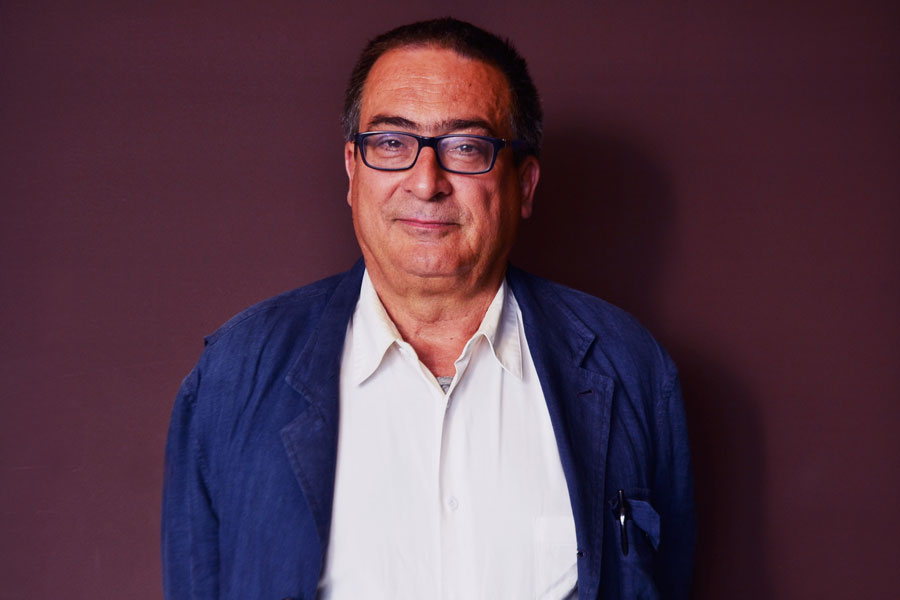 Emilio Genovesi
Dal 2001 è membro del CdA e dal 2007 CEO di Material ConneXion Italia. Dal 2012 collabora con il Comune di Milano sul progetto Expo in Città e dal 2013 è project leader del Biodiversity Park, Padiglione tematico in ExpoMilano2015. Dal 1997 al 2009 è Direttore Generale di Domus Academy. Segue in particolare i percorsi di education e ricerca dedicati alla relazione tra Design e Strategia di impresa. Su questi temi ha promosso numerosi convegni ed iniziative e ha tenuto conferenze in Francia, Germania, Svizzera, Olanda, Svezia, Norvegia, Turchia, Giappone, Cina, Korea e Hong Kong. Negli ultimi anni si è particolarmente dedicato allo sviluppo di DARC promuovendone il mercato internazionale. Dal 2007 ha curato una rubrica dedicata ai temi del design e della strategia d'impresa sull'inserto Nòva24 del Sole 24 Ore.
Since 2001 he has been part of the BoD, and in 2007 he became CEO of Material ConneXion Italia. Since 2012 he has collaborated with Comune di Milano on the project Expo in Città and since 2013 he has been project leader of the "Biodiversity Park" thematic pavilion in ExpoMilano2015 site. From 1992 to 2009 he has been General Director of Domus Academy. His activity has especially been focused on the educational programs and research projects, investigating the relationship between design and business strategies. Around these topics, he has promoted several conventions and initiatives and he has spoken at conferences in Italy, France, Germany, Switzerland, The Netherlands, Sweden, Norway, Turkey, Japan, China, Korea, and Hong Kong. Lately, his work has been focused on the development of DARC – Domus Academy Research Center, promoting its international market. He has been editing a column on design and business strategies on Nòva24 supplement to Sole 24 Ore newspaper since 2007.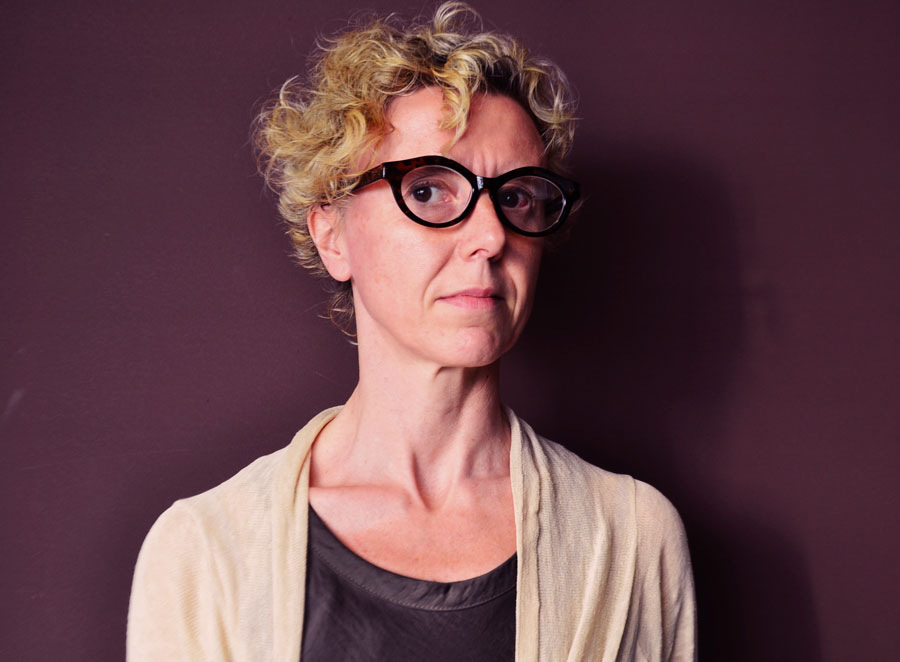 Anna Pellizzari
Inizia la sua attività come graphic designer nel 1987, dapprima presso ZanOn poi presso Onami Design. Frequenta alcuni corsi presso FIT, Central St Martins e Domus Academy, estendendo le esperienze professionali al progetto dei materiali e delle finiture. Dalla seconda metà degli anni '90 sviluppa ricerche di metaprogetto per aziende italiane e internazionali, e accresce la sua esperienza nel design management. Dal 2006 al 2009 collabora stabilmente con il Centro Ricerche di Domus Academy, e dal 2010 al 2011 è partner e Senior Project Manager di DARCmilano. Dal 2012 è Executive Director di Material ConneXion Italia.
She began her career as a graphic designer in 1987, first at Zanon then at Onami Design. She attended summer courses at FIT, Central St Martins, and Domus Academy, extending her professional experience in the design of materials and finishes. Starting from the second half of the 90s, she has developed metaproject researches for Italian and international companies, and increased her experience in design management. From 2006 to 2009 she has collaborated with the Domus Academy Research Center, and from 2010 to 2011 she has been Partner and Senior Project Manager at DARCmilano. Since 2012 she has been Executive Director at Material ConneXion Italia.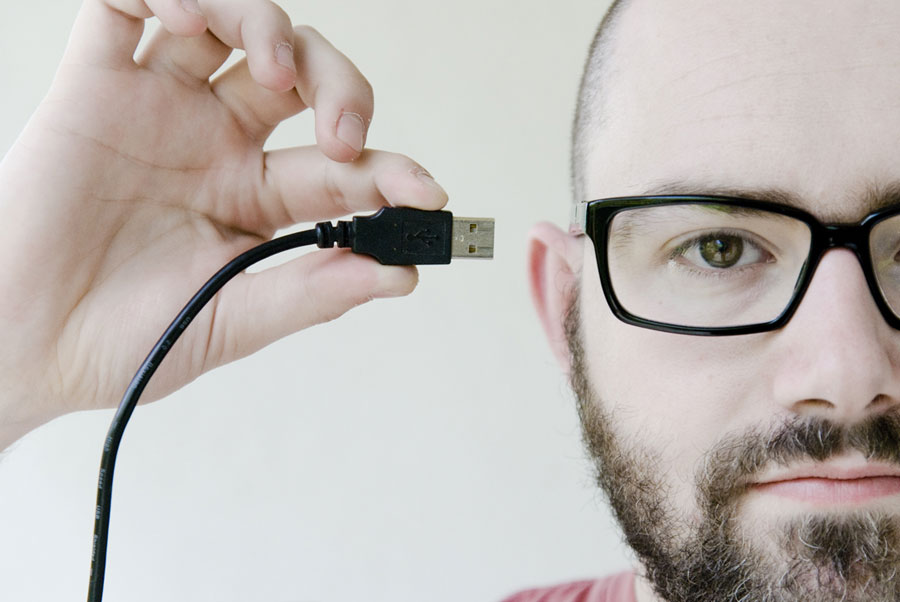 Alessandro Mininno
Lavora da Gummy Industries, agenzia di comunicazione online che ha fondato con Fabrizio Martire. E' consulente di Expo 2015 per i social media e insegna a Digital Accademia e al Master in Relational Design. Ogni tanto scrive un post su Virtualeco.org. Negli ultimi 10 anni ha lavorato come consulente per alcune delle maggiori istituzioni culturali italiane e per il mondo dell'editoria (Biennale di Venezia, Mondadori, Fondazione di Venezia). Ha insegnato e svolto attività di supporto alla didattica all'Università Bocconi, allo IUAV di Venezia e di San Marino. Il suo profilo completo è su LinkedIn.
He works at Gummy Industries, online communications agency which he founded with Fabrizio Martire. He is consultant of Expo 2015 for social media and teaches at Digital Academy and at Master in Relational Design. Sometimes he writes posts on Virtualeco.org. Over the past 10 years, he has worked as a consultant for some of the largest Italian cultural Institutions and for the world of publishing (Biennale di Venezia, Mondadori, Fondazione di Venezia). He has taught and worked as a teaching support at Bocconi University, at IUAV in Venice and San Marino. His complete profile is on LinkedIn.

Per informazioni:

Giovanna Sicignano
gsicignano@materialconnexion.com
0236553060
www.materialconnexion.it